Moms Matter: Support Critical Care
by April Dawn Ricchuito on April 29, 2011
Maternal mortality is nothing short of a global epidemic. Nearly every minute of every day, a woman dies from pregnancy-related causes. The world has the resources, technology and knowledge to prevent most of these deaths- sign CARE's petition to help.
Please support critical investments in foreign aid.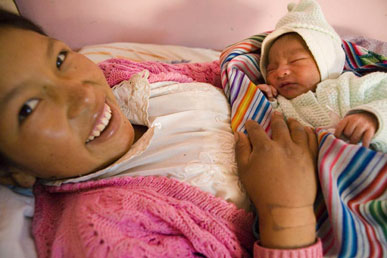 Now is the time to come together and demand that something be done.  Strong mothers can raise strong children who can build & develop stronger communities. Please ask your representative to support critical investments in foreign aid, which provide lifesaving interventions that reduce mortality and improve the health of mothers and their newborns around the world.  Hundreds of thousands of women die unnecessarily each year from preventable complications related to childbirth and millions more are left with life-altering disabilities. A staggering nine out of 10 women in sub-Saharan Africa will lose a child in their lifetime. A woman's lifetime risk of maternal death in sub-Saharan Africa is  one in 22, compared with one in 4,800 in the United States. More support is required now to ensure not a single needless maternal death takes place anywhere.
In order to prevent this catastrophe, we need the political will and adequate  allocated resources to ensure lifesaving care is delivered. Take action now!  
IT WILL TAKE BUT A FEW MINUTES OF YOUR TIME.
YOU HAVE THE TIME- SOME OF THESE WOMEN DON'T.  
A WOMAN DIES EVERY MINUTE FROM CHILDBIRTH COMPLICATIONS.¹
__________________________________________
1.  UNICEF:  Millenium Development Goals, Goal Number 5:  Improve Maternal Health
Learn more at:  http://www.unicef.org/mdg/maternal.html
Tags:
Africa
,
budget
,
CARE
,
change
,
federal funding
,
Get Involved!
,
Global Moms Act
,
global relations
,
government
,
health & wellness
,
maternal death
,
Mother's Day
,
nonprofits
,
poverty
,
pregnancy
,
prevention
,
society
,
UNICEF
,
United States
,
women